Bush's Protectionism Phobia
---
One of GW Bush's favorite props on the "free trade stage" is the Harley-Davidson motorcycle, he frequently refers to the company as an example of US manufacturing reaping the benefits of a global economy.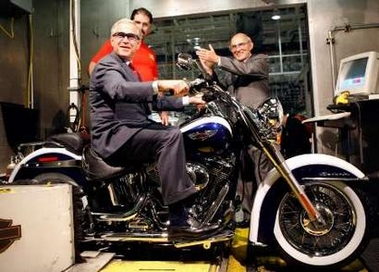 Most recently he had a H-D sitting alongside a John Deere tractor on the White House lawn during his pitch for a trade agreement with Columbia
aa trade agreement which we're supposed to believe is totally in our favor.  Given this presentation does anyone else wonder why the heck Columbia hired a group of high-powered lobbyist in order to push through such a lopsided trade pac?  
During his rant against protectionism last week in Peru our elected President of the United States showed more spirit than he's displayed in ages, I dare say this was the forceful, morally convinced G.W. Bush of the pre-Iraq invasion era.
Well, this is on the H-D website. It's a fact he never bothers mentioning;
1983 - Harley-Davidson successfully petitions the International Trade Commission (ITC) for tariff relief, which is granted April 1, 1983. The tariff, scheduled to end five years later, is placed on all imported Japanese motorcycles 700cc or larger as a response to Japanese motorcycle manufacturers stockpiling inventories of unsold motorcycles in the United States. 
Yep, none other than the Ronald Reagan Administration saved Harley-Davidson from bankruptcy during a dark time in its history.  Coincidentally, H-D was in the process of retooling for the debut of a brand new engine.
So, from this apparent breech of factual continuity when it comes to Republicanism, Busi-ism, and protectionism, I have a question;
What has changed in the economic world over the past 25 years to change what was once a useful tool of protecting US industry from product dumping into an evil instrument of economic destruction?   Our principle export is food, isn't it?   So we feed the world and in turn world destroys our manufacturing base and middle class.  
If you ask me it's a ****ed up state of affairs.
I don't believe anything uttered by that man or his neocon parrots....