Debate Reactions
---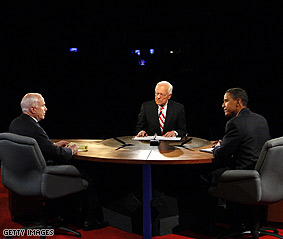 This is an open thread for you guys to post your reax to the debate.
My thoughts:
McCain seemed antagonistic and edgy. Almost bitter. He said at one point that he thought it unfortunate that the campaigns had taken a distinctly negative turn. He said he finds personal attacks deplorable. But if you noticed, his entire debate rhetoric centered around barbs thrown at Obama. Lots of cheap shots, most of them unrelated to the topic at hand. My favorite was when he accused Obama of working to "destroy the very fabric of democracy." Obama pointed out that the general populace finds McCain's approach too negative. This debate has done nothing to indicate otherwise.
Bottom line is that McCain's down several runs in the bottom of the ninth, he's got two outs already, and he sure didn't hit this one out of the park. This debate will not impact the polls.
Obama was calm, collected, intelligent, and focused. He came across as no-nonsense, just the facts ma'am. I think that's what the American people want.